Mel-O-Ade Cubed Drink, 1932
Here's a 1932 book produced by the Liverpool Daily Post, "Motor runs from Merseyside". It's in a fairly delicate condition and so I couldnt quite scan everything flat. I'll post up some more of this book later. For now, here's some of the adverts it contains.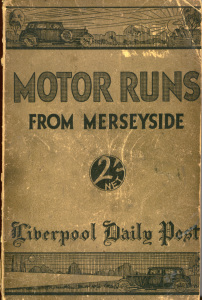 My favourite bit is this advert for Mel-O-Ade, a "Summer health drink", "in convenient cubes for motorists". Mel-O-Ade was a locally produced drink, made in Dale Street, Liverpool.

Buy a book now and then, and refresh your mind! A great phrase from an advert from the stationer and bookseller Philip Son and Nephew, Ltd on Church Street.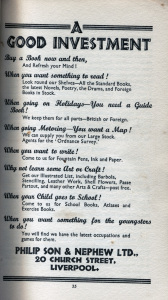 Adverts for where to buy cars in Liverpool. I just love that 1930s Art Deco aesthetic.