Mellin's Baby Biscuits, 1892
An advert from 1892 for Mellin's Food Biscuits, biscuits that could be used for weaning babies, or given to the infirm. They were marketed as a replacement for mother's milk, and were made from cows milk, malt flour and and wheat.
I was intrigued by this testimonial, by an Alice Liddell. Surely not "Alice in Wonderland" Alice? But no, that was her maiden name, she was Alice Hargreaves by marriage, after marrying the cricketer Reginald Hargreaves.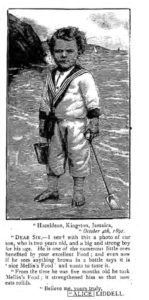 Incidentally, I love these two pictures of "the" Alice Liddell, at the ages of 20 and 80. She looks like she was a fascinating lady.