Perfect Cooking, 1959
I've got a new cookery book, and it promises me "Perfect Cooking", 1959-style.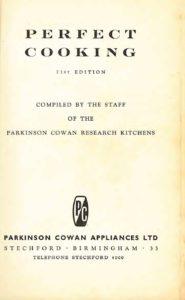 I love so many things about old cookbooks, particularly the craziness of the Invalid Cookery sections, but one thing bugs me – there's no pictures of the food, most of the time. Well, there's the occasional line drawing in some, and from the 1950s you do start to see those vivid technicolour plates for selected recipes. And, contradicting myself now, thinking about it, I do have the most beautifully illustrated promotional booklet for Lutona cocoa recipes from the 1930s. But generally, my preference is for a nice big picture of every recipe in the book, it adds to the general aesthetic enjoyment of the cooking process.
That is, until now, when I've discovered something I like just as much. Quirky little line drawings, depicting something ludicrously literal about the recipe title, like a Pan's People dance routine on Top of the Pops in 1974. Some of the illustrations are a bit of a wilder riff on the theme, like when that picture of Jocky Wilson was screened behind Dexy's Midnight Runners on Top of the Pops in 1982. Which I was interested to learn recently, was actually done on purpose, suggested Kevin Rowland for a laugh.
I love the 50s illustration style and the technicolour pics in this book are reserved for some beautiful drawings of special events throughout the year, a wonderful depiction of idealised 1950s life. The Fricassee of Chicken below I have been working on, to be presented in a future post.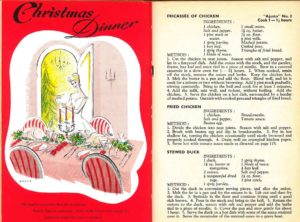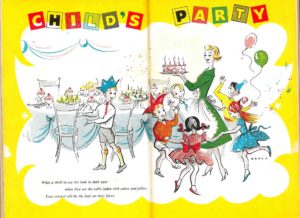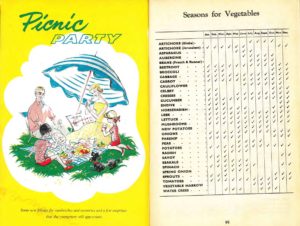 And I would kill to be at this glamorous Halloween party.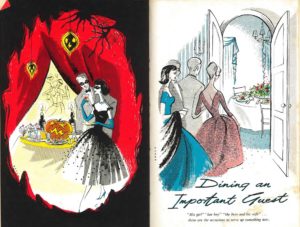 There's rationing-inspired recipes too, like this one for mock cream.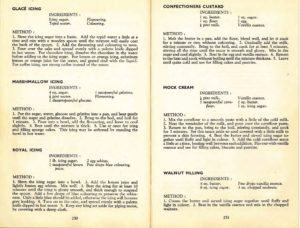 Plus um…boiled cucumber?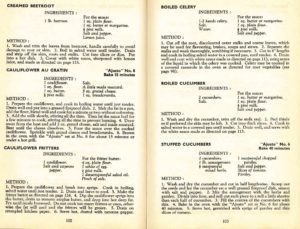 And the usual vintage recipes for heads of various sorts, which I'm too squeamish for.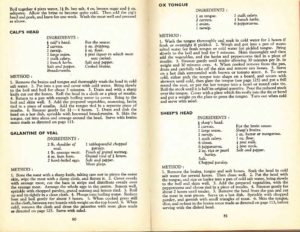 The line drawings though, these delight my heart, which is always looking for the silly. A rock and rolling rock bun, here – which is pretty up to the minute for 1959. Plus – Batchelors Buttons.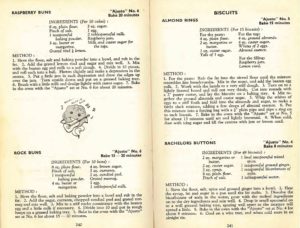 Preserved ginger, here. I think this is supposed to be a "well-preserved" lady of a certain age.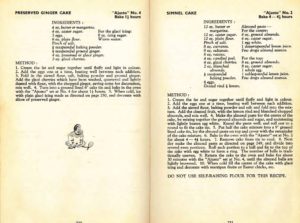 Bath buns = a bun in a bath. Obv.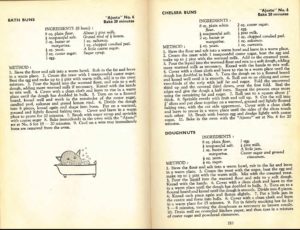 Sweet egg toasties with a sweet young lady egg in a bonnet.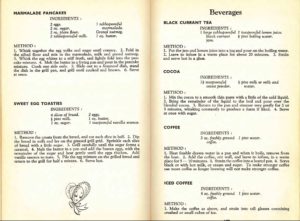 Not sure why the vanilla soufflé is a peeking lady with amazing eyes. Maybe because of soufflé being a seductively French word?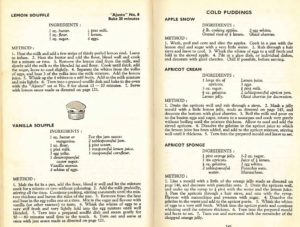 You have to read the ingredients list for this one – the tripe and onion casserole contains dressed tripe, hence a helpfully-signposted piece of tripe in a top hat.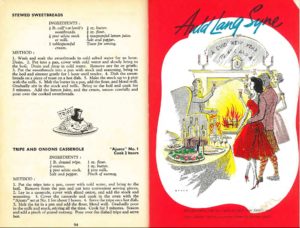 Chicken croquettes, chicken playing croquet. Standard.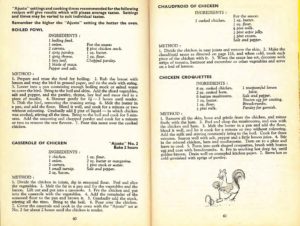 Sandwiches being advertised on a sandwich board. Clever.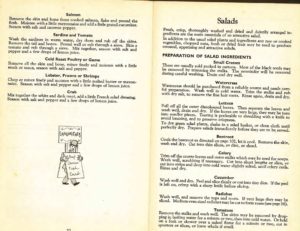 Right, this has me beat, I've googled everything. Why is Shrimp Mousse a clown with a shrimp mousse drum? Is it the shape of the mousse mould? Is it a pun? If anyone can figure it out, please let me know in the comments!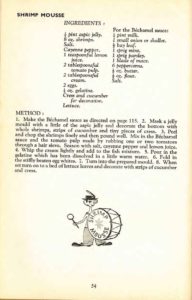 The best for last – my favourite of them all. An utterly masterful piece of illustration. Fish stock = a fish in the stocks.