Vintage Recipe – Bircher Muesli, 1928
Bircher muesli – an old recipe that has been recently revived, trendified and is probably now available in a independent coffee shop near you. However, it has been modernised a little. The original cream and sugar have largely given way to yogurt and more fruit, but there are a huge amount of different recipes out there now.
It's one of those nineteenth-century health recipes, served in sanitoriums and spas – like those invented by Dr Kellogg, and Hydropathic Pudding. It was invented by Dr Maximilian Bircher-Benner who considered it to be mainly of use in order to get patients to eat raw apples, believing that raw food contained a high level of energy from solar light. He invented muesli in general, not just adapting it to produce this version – muesli meaning "little mush", which is a very apt name for this recipe.
It was presented in this 1928 newspaper as "a new breakfast dish" – although Dr Bircher-Benner apparently invented it at the end of the nineteenth century, it was only in the 1920s that it became popularised. This recipe is the authentic version, consisting of oats soaked in water overnight, grated apple, lemon zest and juice, brown sugar, cream or condensed milk, and chopped nuts.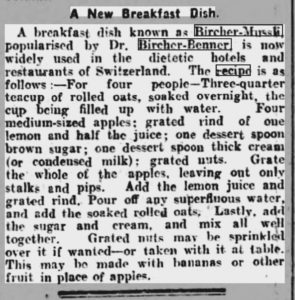 I made the recipe exactly as specified. There is the option to use cream or condensed milk and I went with the condensed milk version as:
1) that was what Dr Bircher originally used,
2) the recipes on my blog are all about the retro, and this definitely adds that element to it,
and 3) frankly any excuse to eat that divine nectar.
It calls for grated nuts to be sprinkled over as a finishing touch, and I toasted some almond flakes for this purpose.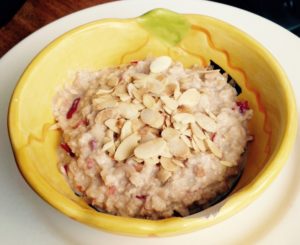 My verdict – "little mush" is very apt for the look of it, brightened only by the grated red skin of the Pink Lady apple I used. Not particularly inspiring appearance-wise. But the taste! Oh, easily the most delicious breakfast I have had in a long time. The fresh juiciness of the grated apple with the soothing oats, the crunch of the toasted almonds, and the sharp lemon and sweet condensed milk deliciously combining to make the overall taste almost like pudding. I had previously only tried Bircher muesli in those pre-made pots you get with a Boots Meal Deal, which are a not unpleasant but blandly sweet slop. This was….well, not like that.
For more information on the infinite variety of Bircher's muesli, have a look at Felicity Cloake's recipe from her fascinating "How to cook the perfect…" series, to which I am a devotee. She tries a range of different recipes, old and new, in order to come up with her own, "perfect", version. Her verdict on using condensed milk is that it makes the dish "jarringly sweet", which I didn't find to be the case, although in my recipe there is only one dessert-spoon of the stuff between four portions, a little less than a teaspoon each, which I think was an amount which worked well. She ditches the brown sugar for the same reason, and I'm sure it could happily be jettisoned, especially if you soaked the oats in apple juice rather than water. My main disagreement with Felicity is that she considers the lemon to be unnecessary if you're not using the condensed milk – the sharpness not needed if the sweetness is not there. While I'm sure her recipe is perfectly lovely itself, it was the lemon zesty-ness that elevated this dish into the realm of the delicious for me, and stayed with me long after the bowl had been scraped clean.
Bircher Muesli, 1928-style

For four people

Three-quarter teacup of rolled oats, soaked overnight, the cup being filled up with water.

Four medium-sized apples.

Grated rind of one lemon and half the juice.

One dessert spoon brown sugar

One dessert spoon thick cream (or condensed milk)

Grated nuts

Grate the whole of the apples, leaving out only the stalk and the pips. Add the lemon juice and grated rind. Pour off any superfluous water, and add the soaked rolled oats. Lastly, add the sugar and cream, and mix all well together. Grated nuts may be sprinkled over it if wanted – or taken with it at table. This may be made with bananas or other fruit in place of the apples.