Vintage Recipe – Fricassee of Chicken, 1959
My first creation from 1959's Perfect Cooking was the mid-century, showy, dinner party-style Fricassee of Chicken.
As I mentioned in my previous post on this book, the best things in there are the delightfully literal line drawings illustrating the ingredients in the recipes (such as an actual fish put in the stocks for fish stock) but not what the actual finished dish looked like. I could have done with a guideline as to how the presentation of this was supposed to work. It's creamed chicken, surrounded by "a border of mashed potato" and then garnished by peas and fried bread triangles. I have to admit, the double carb-loading appeal of mash and fried bread in the one meal was the main reason for making this.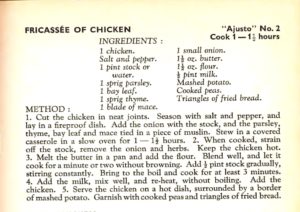 This is my serving suggestion attempt, with a piece of chicken hoving into view like a little Nessie. It brings to my mind of one of Fanny Craddock's creations, although she would probably have dyed the mash green to match the peas. The faffing time spent on producing borders and garnishes means that the sauce had plenty of time to get to work on forming a skin before it got near a plate.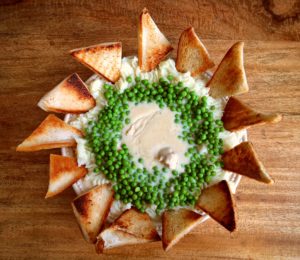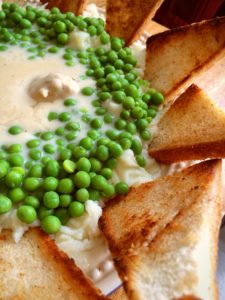 The verdict? Well, the adults in the house thought it was delicious, but the kids had other ideas. To be fair, it does look very slightly different from the tea they're usually presented with. The fried bread was a hit, but as far as they were concerned, the chicken could only be eaten with all the creamy sauce wiped off. The mashed potato and peas, infected as they were with the sauce, were no go areas too. I loved the sauce myself, so I have no idea what the kids tastebuds were reacting to.
In short, if you're hosting a 1950s-themed adult-only dinner party, this is the centrepiece for you. I would make it again in a second, although minus all the faffing with the presentation. Just big dollops of creamy chicken and mash on the plate instead.