Vintage recipe – Mock Turtle Soup, 1910
It was a stroke of glorious silliness from Lewis Carroll to invent the character of the Mock Turtle in Alice's Adventures in Wonderland. It was a play on the fact that mock turtle soup was a popular soup in the Victorian period, for those who couldn't afford the expensive delicacy of Green Turtle Soup itself. The "mock" version generally included heads, brains and offal from various creatures to recreate the turtle experience, a mash-up that's demonstrated in John Tenniel's illustration of the Mock Turtle, which is a kind of turtle-cow-pig.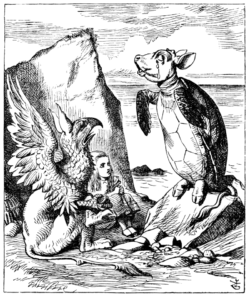 Maybe a bit like this.
Anyway, here's Mrs Dora Rea's take on Mock Turtle soup from 1910, with the turtle being substituted with calf's cheek and ham, which sounds a bit more palatable than brain soup. The forcemeat balls mentioned were stuffing balls of bread, herbs and meat, similar to stuffing today. I presume they're meant to be floating in the soup, as they aren't mentioned in the instructions.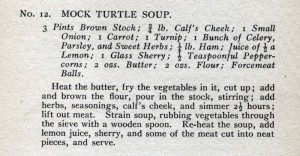 MOCK TURTLE SOUP
3 pints brown stock
3/4 pound calf's cheek
1 small onion
1 carrot
1 turnip
1 bunch of celery
Parsley and sweet herbs
1/4 pound ham
Juice of half a lemon
1 glass sherry
1/2 tsp peppercorns
2 oz butter
2 oz flour
Forcemeat balls
Heat the butter, fry the vegetables in it, cut up.
Add and brown the flour, pour in the stock, stirring.
Add herbs, seasonings, calf's cheek, and simmer 2 1/2 hours, lift out meat.
Strain soup, rubbing vegetables through the sieve with a wooden spoon.
Reheat the soup, add lemon juice, sherry, and some of the meat cut into neat pieces and serve.